28/06/2020
Nieuwsuur-Adopted children find their family through DNA: 'My mother has always been looking for me'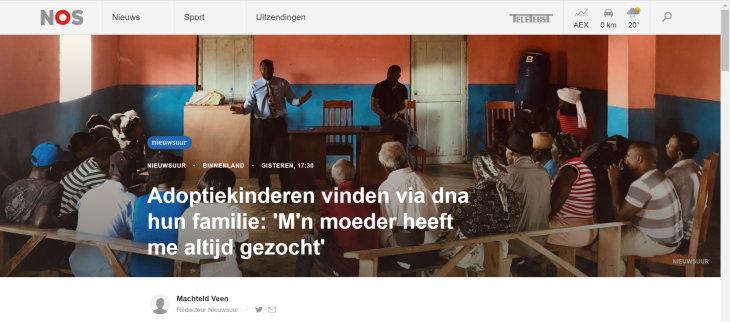 The news article is in Dutch, below the English translation: 
Adopted children find their family through DNA: 'My mother has always been looking for me'
Two Haitian adoptees have found their biological family in Haiti through a DNA project. In both cases, the children appeared not to have consciously given up for adoption in the 1980s. Their biological family has been looking for them ever since.
Nieuwsuur investigated adoptions from Haiti last year and found that on the Caribbean island, many parents have given their children to Catholic nuns, who promised them that the children would be educated and fed and then return to their family. But over time, the children turned out to have been adopted abroad.
Volunteers of Plan Kiskeya took DNA in May last year from relatives of missing children in the town of Jacmel. So two DNA matches have now come from that meeting. One of them is Louis Wietzes who came to the Netherlands in 1988. "I never felt the need to find my biological family. My adoptive parents had been told that my mother couldn't take good care of me and had taken me to an orphanage. I didn't know what a search should bring me."
Stunned
This changes when Wietzes lands on the Plan Kiskeya website in April. "I looked around on that website and suddenly saw my own Haitian surname next to the photo of a woman looking for her son, whose first name matched one of my first names. Only the place of birth was wrong."
Although he is unsure whether it will work, Wietzes orders a DNA kit and also sends his DNA material to the international database containing his biological family.
When the result comes, he is stunned. "It was my mother. It was so strange. It is very nice to know that she is still alive and apparently looking for me. But the story was different than I had always believed." Wietzes biological mother appears to have given him to nuns who would take care of him. But if she wants to pick him up after a year, he has been adopted abroad.
Long walks and nuns
Wietzes is still confused about the result. "My father and mother have always been sad that I was not there, that has been very present for them. But the reverse has been a lot less."
He now has regular contact with his mother and brothers and sisters. "I plan to go there in December, if the circumstances allow it. My mother is elderly, it would be nice if I could still meet her."
"Until the DNA Match, my brother and I didn't even know if we had any brothers or sisters."
Robbert Blokland
Robbert Blokland, who was adopted together with his twin brother in the 1980s, has also brought a match to the DNA project. "We came to the Netherlands when we were three years old. I have no active memories of Haiti, but I always talked about long walks and nuns when I was little."
Like Wietzes, Blokland appears to have been adopted to the Netherlands via the nuns and an orphanage. "I've always been told that my birth parents couldn't take care of us and that's why we gave up. I had no reason to think it was any different."
However, that appears to be the case. After unsuccessful previous quests Blokland has registered with Plan Kiskeya's DNA project. "In December I came across the Nieuwsuur broadcast about adoptions from Haiti. Then many things fell into place. I then quickly applied for a DNA kit."
"My mother always kept looking for me"
Blokland receives an email only two weeks after he submitted his DNA. "The mail came in at 9:30 in the morning when I was at work. I wanted to wait until 5 am and open it at home, but of course I couldn't." 
When he has made contact with his biological family, there is also a sad message. "My mother died fifteen years ago. I hate that. And if it turns out that she is the one who has always kept looking for her children, it is hard to explain how that feels."
Nieuwsuur previously made a report about shadowy practices surrounding adoption in Haiti: